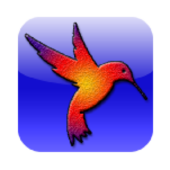 SweetBeatHRV provides real-time stress and nervous system monitoring using state-of-the-art sensor technology and data processing algorithms. While SweetBeatHRV has 3 main session types (Monitor Stress, HRV For Training and Heart Rate Recovery), it can also be used to measure sleep quality, daily readiness and nervous system balance and resilience. In addition to HRV monitoring, SweetBeatHRV also integrates the popular food sensitivity testing app FoodEffect which can be used with or without a heart rate monitor.Now more than ever individuals need to be taking their health into their own hands.
Features
Session Type Screen: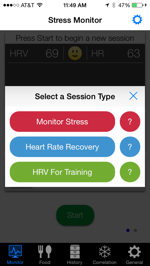 The Session Type screen allows users to choose which feature they would like to use (Stress Monitoring, HRV for Training, Heart Rate Recovery). After starting a session, the user's metrics will fill this screen: heart rate, HRV, stress level, current mood.
Monitor Stress Screen: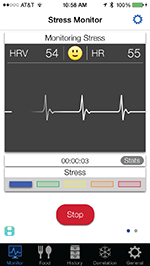 At the top you see your HRV score which is on a scale from 0-100 (higher number is generally better) and your heart rate. You can select your mood by tapping the smily face. Below that the EKG animation actually beats with your heart beats!. The stress meter shows your stress levels from relaxed blue to stressed red. The little stats button right of the timer flips this window around, displaying other real-time metrics.
Stats Screen: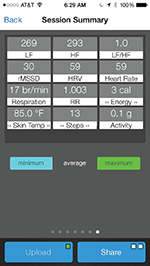 The stats screen, often referred to as the "geek" screen, shows metrics that represent different branches of the nervous system as well and vagal tone, respiration rate and more. Please visit Support page to learn more about these.
Graph Screen: By rotating your device to landscape, the graph screen is displayed tracing your heart and other geek metrics. You can also see your time between heart beats (used to calculate your heart rate and HRV), also known as RR intervals, by toggling the RR button.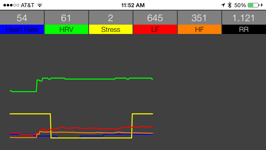 HRV for Training: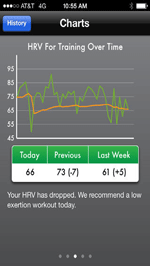 In competitive sports, improved performance is achieved by alternating periods of intensive training with periods of relative rest. SweetBeat HRV uses patent pending algorithms to create a personalized reference line for the user based on 3-minute daily HRV readings. Using the reference line, the app recommends the user "train as usual", have a "low exertion day", or take a "rest day".
Correlation: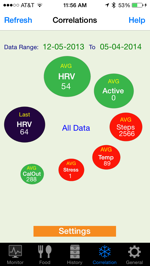 The correlation screen uses a patent pending algorithm to correlate all of the Fitbit data the user has shared with SweetBeat HRV. This data will come from the app itself and any other apps the user has authorized (Fitbit, Withings, and/or MapMyFitness). Settings allow the user to view demos or analyze the correlations between their own data. The user chooses which metric they want to correlate to the others (HRV, stress, or weight). They can choose to see all of their data or put in specific date ranges. By doing this, the user can see their current, max, and min metric compared to their other data. Touching the bubbles flips them for more data.
Food Sensitivity Test: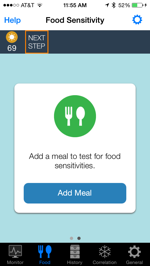 To use the food sensitivity test, a user must first take a morning reading of the pulse to establish a baseline for the day. Before eating a meal, the user records the foods comprising the next meal and performs a pulse test. After the user is finished eating, the app will prompt users to record their heart rates every 30 minutes until 90 minutes have passed. Once testing is complete, the meal will either pass or fail for food sensitivity. The Food Sensitivity test methodology developed by immunologist Dr. Arthur F. Coca can be found on the web.
History: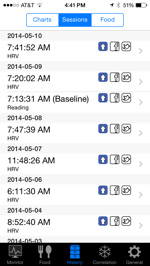 Accessing saved sessions is easier than ever. The history is split into three sections: charts, sessions, and food. Now users can separate their food sensitivity tests from the rest of their sessions. By selecting a saved session, the user can view their metrics in a graph, upload to MySweetbeat, Facebook or Twitter, and new capabilities now allow users to send their RR intervals in a CSV file to any email address.
General: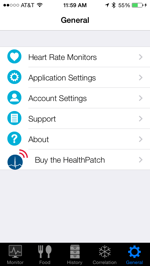 This section is designed to allow the user to personalize their SweetBeat HRV experience. Choose a heart rate monitor, change application or account settings, or read through the support documents.